New Harley-Davidson Boom! Box GTS Infotainment System
The new Boom! Box™ GTS infotainment system is an evolved interface experience for riders of select Harley-Davidson Touring and Trike motorcycles. The Boom! Box GTS system offers the contemporary look, feel and function of the latest mobile devices and tablets, with durability and features designed specifically for motorcycling, plus Apple CarPlay compatibility and hands-free voice recognition. Every element has been optimized to enhance the rider's interaction with the motorcycle and connectivity with the world to ultimately improve the motorcycle touring experience.
The Boom! Box GTS is standard equipment on 2019 Harley-Davidson Ultra Limited, Ultra Limited Low, Road Glide® Ultra, Road Glide® Special, Street Glide® Special, CVO™ Limited, CVO™ Street Glide®, CVO™ Road Glide® and Tri Glide® Ultra models. Boom! Box GTS is a factory-installed option for Harley-Davidson Street Glide®, Road Glide®, and Electra Glide® Ultra Classic® models.
The factory-installed Boom! Box GTS audio features 25 watts per channel through two or four speakers, depending on motorcycle model. System upgrades available from Harley-Davidson® Genuine Motor Accessories support up to four sets of Boom! Stage II speakers and 1,200 watts total power. Audio sources include AM, FM, WB, XM, Bluetooth streaming and Digital Mass Storage compatibility. The Boom! Box GTS supports the Harley-Davidson Wireless Headset Interface Module (sold separately) which permits full access to the infotainment features through Bluetooth technology and compatible wireless headsets.
Improved Display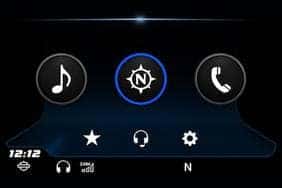 The 6.5-inch Boom! Box GTS is glass from edge to edge and has the sleek, modern appearance of the latest tablet devices and premium automotive displays. The Corning® Gorilla® Glass touch-screen surface is the same durable and scratch-resistant cover glass used on billions of mobile devices worldwide. It includes an advanced surface treatment designed to minimize reflection for exceptional visibility in bright sunlight. The screen is optimized for use in wet or dry conditions, even when used with riding gloves. The glass is optically bonded to a TFT display (thin-film-transistor, a type of liquid-crystal display noted for high image quality and contrast) with 100 percent more resolution and a four-times higher contrast ratio than the 6.5GT display it replaces, for a crisp and clean appearance even in bright sunlight.
Improved User Experience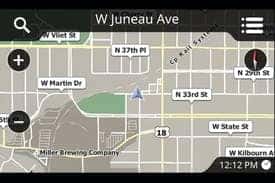 The new Boom! Box GTS processes faster, has more memory and is more responsive than the Boom! Box 6.5GT infotainment system it replaces. Start-up time is reduced from 21 seconds to 10 seconds, and route calculation time is reduced from 10 seconds to 2.5 seconds versus the 6.5GT system.
Like a smartphone, the navigation engine display responds to two-finger gestures: swipe, pinch, and drag. The new home screen display is simplified to three key system buttons: Navigation, Phone, and Music. A new Back button has been added to the right-hand control. The Navigation, Phone and Music screens feature condensed information that's easy to read and navigate.
The new Quick Jump feature allows easy access to Navigation, Audio and Vehicle information (press and hold Home on left-hand control for the pop-up menu). Background colors and a high-contrast viewing mode are user-selectable. The entire GTS system can be managed through the touch screen and with the thumb-operated five-way joysticks located on the left- and right-hand controls.
Next-Level Technology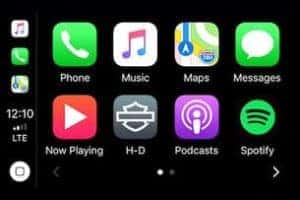 Boom! Box GTS is Apple CarPlay compatible (when the microphone is in use with optional Harley-Davidson® Genuine Motor Accessories headsets) and can project phone functions to the screen, including streaming apps, weather, and traffic, so riders can enjoy and use familiar functions installed on their phone.
A new navigation engine features a voice recognition enabled "one box search" function (similar to a search engine) for added rider convenience. Using the Alternate Routes function, the rider can choose a route based on Fastest, Shortest, Twisty, and Scenic features. The Boom! Box GTS navigation system features a new integration with the Harley-Davidson™ App for iOS or Android. Leveraging this integration a rider can easily find a destination in the App and send that point of interest or addresses to the navigation system.
In addition, the integration with the App eliminates the need to use a USB jump drive to import ride routes. Riders can import routes from the App into the navigation over a Bluetooth or USB smartphone connection. Ride routes can be created in the App or on the redesigned Harley-Davidson™ Ride Planner website at https://www.harley-davidson.com/us/en/explore/ride-planning/plan-your-route.html.
The Harley-Davidson App helps riders get the most out of their time on the road with features including recommended rides, ride planning, ride recording, riding challenges and the ability to find Harley-Davidson dealerships, gas stations, hotels, restaurants, motorcycle events, and other attractions. Learn more at https://www.harley-davidson.com/us/en/explore/discover/harley-davidson-app.html.